Like every year Xiaomi presents its new sports bracelet, drum roll for the new Mi Band 5 that will once again become a best seller.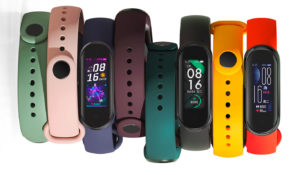 1.1 ″ 126 × 294 OLED colorful touchscreen
Entre las novedades que nos trae esta nueva Xiaomi Mi Band 5, disponemos de una carga magnética diferente a su predecesora y una pantalla OLED más grande. En esta ocasión esperamos disponer de conectividad NFC para Europa, que es una de las características más demandadas por los usuarios.
En cuanto al diseño esta nueva Xiaomi Mi Band 5 tiene un aspecto muy similar a la Mi Band 4. Tenemos una pantalla AMOLED de 1,1 pulgadas que nos permitirá ver un 20% más de contenido que en su anterior versión. La Mi Band 5 llega con varias correas intercambiables con nuevos colores.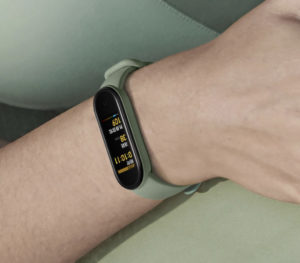 50 meters waterproof
Una de las prestaciones más importantes es que está Mi Band 5 nos permite sumergirlo hasta 50 m de profundidad.
Magnetic charging without removing it from the strap
Una de las diferencias respecto a la versión anterior es la carga magnética, nos permitirá cargar nuestro dispositivo sin necesidad de extraer la de la correa.
Battery up to 14 days
En cuanto a la autonomía esta nueva Xiaomi Mi Band 5 nos promete hasta 14 días de duración pudiendo llegar hasta los 20 en el caso del modelo sin NFC.
Sport functions
En cuanto las funciones está Xiaomi mi band 5 dispone de 11 modos deportivos como lo son yoga, bicicleta estática, cinta de correr, comba, bicicleta, andar, running, máquina elíptica, máquina de remar y entrenamiento libre.
Una de las funciones que más nos han llamado la atención es que incluye un modo salud para las mujeres que está orientado para el control del club menstrual.
Another of the functions that this Xiaomi Mi Band 5 has is the personal activity intelligence that will allow us to convert the heart rate data into unique and personal scores to evaluate the daily activity we do.
Compatible with iOS and Android
Por supuesto en cuanto la conectividad esta nueva Xiaomi Mi Band 5 dispone de Bluetooth y es compatible con móviles tanto iOS como Android. Para terminar en la mi band 5 disponemos de funciones como el control remoto para hacer fotos a modo de disparador o del control de la música
Other functions
Alarm functions, preset dialing, custom replacement dialing, screen lock, timer countdown, phone alarm reminder, call alert, SMS alerts, calendar reminders, app message alerts, weather forecasts, find a mobile phone, unlock mobile phone, event reminder, night mode, do not disturb mode, remote music playback from mobile phone, Bluetooth streaming, progress screen upload, use mode selection, OTA update.
Resumen de prestaciones
Xiaomi Mi Band 5 with heart rate, sleep, step count, health management
Pantalla táctil OLED a color 1,1″ 126×294, hasta 50 metros impermeable
NFC con posibilidad de realizar pagos
Designs like "spheres"
512 KB RAM 16 MB memory
125mAh battery (up to 14 days)
Magnetic charge
Micrófono y altavoz
Female health mode
Remote control for taking photos
11 different sport modes
Compatible with Bluetooth 5.0 protocol