We reveal some of the benefits of the Realme 6 and 6 Pro
The Chinese company Realme is in fashion and they know it. A few days ago, on February 24, they presented their new commitment to the high-end range the Realme x 50 pro 5G online. Today we already know some of the benefits that the new Realme 6 and Realme 6 Pro will have, which will be officially presented through its website in India on March 5 at 12:30 PM or what is the same at 8:00 in the morning Spanish time.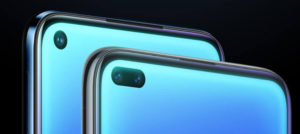 The first important aspect that we see is a perforated screen with a 90Hz refresh rate that calls our attention a lot.
We still do not know which processor these terminals will carry but there is a rumor that some of them could carry the MediaTek helio G90T, which is a processor that has worked very well with the Xiaomi Redmi Note 8 Pro. As we get to know more information about it hardware we will tell you.
As for the cameras, we will have a hole in the front of the Realme 6 while the Realme 6 Pro would mount a double sensor as you can see in the photo. With this exception of the front cameras, the design in the two Realme devices are very similar.

At the rear, the two phones will have quad cameras with a 64 megapixel main sensor. The most expensive model the Realme 6 Pro will carry a better configuration of this sensor and would come to offer a 20x zoom.
In conclusion, we cannot miss or emphasize that the Realme 6 Pro model will have a 30W fast charge which promises a 40% battery charge in just 15 minutes. In the photos that we have been able to appreciate we see a fingerprint scanner mounted on the side and that makes us indicate that the screen will be LCD and not AMOLED.