The GSMA board has decided to keep the Mobile World Congress (MWC) meeting "for the moment", which should be held between February 24 and 27.
Update 12-02-2020 20: 11h
In a brief announcement, the GSMA finally decides to cancel the MWC Barcelona 2020. For public health reasons they are forced to cancel the MWC, without considering the possibility of delaying it, they cancel it directly, talking about seeing us again at the MWC in 2021. 
GSMA announcement cancels MWC Barcelona 2020
Today the organizers of the MWC met urgently at 2 p.m. and have decided to keep the event running, at least until next Friday where they will meet again to assess the risks. In a brief statement, the entity assures that the coronavirus situation changes rapidly and that they continue to analyze it very closely. They also comment that this includes regular meetings with health experts, both Spanish and from other countries, as well as our partners, to ensure the health of visitors.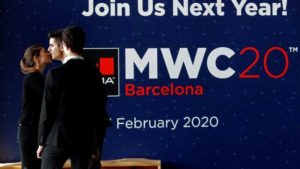 As usual in the previous days we have woken up to the news that the operators Vodafone, Orange, Deutsche Telekom, BT and Nokia They announced today that they would not attend the MWC in Barcelona either. These casualties have motivated the event organizers to meet today to discuss whether or not they continued with the celebration of the world congress. After this news, practically everyone assumed that the event was going to be canceled, but surprisingly the organization at the moment Until next Friday he keeps the Barcelona appointment.
In this GSMA decision to continue with the MWC, they have been able to weigh the pressure from Chinese brands such as Huawei or Xiaomi, which have a large presence in Congress. On the other hand, the economic component also weighs heavily since if the GSMA cancels the MWC 2020 it will have to face heavy compensation to all those companies that maintained their intention to attend the fair. The insurance does not cover contingencies caused by fear of infection from a disease such as the coronavirus in this case, since no health alert has been declared by the Spanish government. This extension of 2 more days seems like extra time for agree on an equitable solution for all stakeholders.
We recall that more than 30 companies have already decided that they will not attend MWC 2020 such as Facebook, LG, Sony, Ericsson, Orange, Amazon, Nokia, Nvidia, Intel, Vodafone, Deutsche Telekom, Vivo, Cisco, Gigaset, Umidigi and many more.