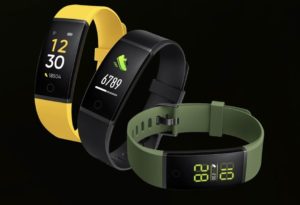 We present the Realme smartband that will be presented on March 5 as a candidate for the best activity bracelet of the year 2020. Of course, it will face the great leader in this segment that as you well know is the Xiaomi Mi Band 4. But Realme It has recently become the great rival of Xiaomi and is showing it both in Europe and in China and India. On this occasion, Realme presents its new smartband with very attractive features and above all at a very competitive price.
Curved OLED Color Screen
The Realme Band screen is in color OLED and has a large size being the same curve for greater adherence to our wrist. The tactile activity bracelet has a button at the bottom that will help us to access the different menus. The strap is made of rubber where we have three colors to choose from such as yellow, black and green
USB connector integrated into the bracelet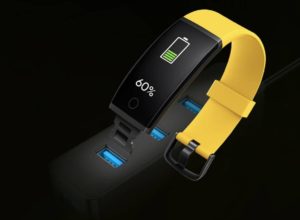 The design surprises us to see that the Realme Band has a USB connector integrated into the screen itself and that it will be enough to remove one of the sides of the bracelet to connect it to the charger.
IP68 water and dust resistance
In terms of sensors we have the heart rate, steps or calories. Of course, all this accompanied by IP68 water and dust resistance.
Notifications
The Realme Band has whatsapp, email, facebook and social media notifications in general via bluetooth connection to our smartphone. On the other hand we also have up to 9 different sports modes.