Hoy han sido presentados los nuevos Realme 7 y Realme 7 Pro con unos precios muy ajustados para competir con Xiaomi en la gama de smartphone entre 200 y 300€.
La marca china Realme nos ha presentado hoy dos de sus nuevos modelos con los que quiere competir en esa gama media de teléfonos que rondan los 200 €. Prácticamente estaban filtradas todas sus características y prestaciones salvo los precios de salida que hemos conocido hoy. Pasamos a haceros un resumen de lo que hoy ha presentado Realme.
REALME 7 PRESTACIONES Y PRECIO
Procesador Gaming con el Mediatek Helio G95
Diseñado para romper con todo para que no te dejen nunca tirado. Este Realme 7 monta un procesador MediaTek helio G95 que te da toda la potencia que necesitas para jugar, para mover tus aplicaciones o para subir tus emisiones en streaming a tus redes sociales favoritas.
Pantalla con 90Hz

Este super gama media de Realme tiene la mejor pantalla que vas a encontrar en este momento. Es un modelo espectacular y tenerlo en tus manos hará que tus amigos se echen las manos a la cabeza. Tiene una pantalla de 6,6 pulgadas que te dará todo para poder disfrutar como nunca de tus videojuegos, de las aplicaciones que más utilizas y que te da la máxima calidad. Su resolución es FHD+ y cuenta con una tasa de refresco de 90 Hz con respuesta táctil de 120 Hz para que tu disfrute llegue a su punto más alto. Esta pantalla también está protegida por Corning Gorilla Glass 3 y luce espectacular con su pantalla de cristal redondeado. Además vas a alucinar con el espectacular sonido que tiene, el cine al que vas seguro que te va a tener celos…
Luces, Cámara y acción

Con sus cuatro cámaras este Realme 7 se convierte en tu compañero para hacer todo tipo de fotografías de una forma súper sencilla gracias a su cuádruple cámara trasera con un sensor principal de  48MP , un sensor gran angular de 8 MP para sacar tus paisajes favoritos y una cámara con objetivo macro de 2 MP. También incluye un sensor monocromo de 2 MP para sacar tus mejores retratos. Una cámara espectacular donde podrás hacer todas las fotografías que deseas y que ya quisiera tener Dian Fossey para sacar guapos a sus Gorilas en la Niebla.
En la parte delantera este nuevo dispositivo de Realme cuenta con un gran sensor de 16 megapixels de Sony IMX471 y apertura de f/2.1 para sacarte los selfies más increíbles que puedas llegar a hacer.
Giant 5,000mAh battery

Aparte de todo esto y por si te pareciera poco este Realme 7 tiene una de las mejores baterías que puedas encontrar su capacidad de batería es de 5000 milliamps para poder disfrutar de tu teléfono y hacer con el todo lo que necesites. También tiene una carga rápida espectacular de 30W lo que te llevará a cargar el teléfono en un abrir y cerrar de ojos. Tiene lector de huellas dactilares en el alteral con el sistema operativo Android 10.
Connectivity
En cuanto a las conexiones y conectividad de este el Realme 7 tenemos jack de audio, Bluetooh 5.0, cargador USB tipo C y  Wi-Fi Dual.
PRECIOS Y VERSIONES
Realme 7 4GB / 64GB 179€
Realme 7 6GB / 64GB 199€
Realme 7 6gb/128gb 249€
REALME 7 PRO PRESTACIONES Y PRECIO
Pantalla Super AMOLED

We begin precisely by talking about the screen where we have a panel 6.4-inch super AMOLED with a Full HD Plus resolution. Within this screen we have the front camera perforated in the upper left part. On the screen, as we have commented, we highlight its super AMOLED panel thanks to which we achieve greater sharpness in colors and exceptional brightness. As if that weren't enough, unlike its little brother the Realme 7, we have the fingerprints under the screen and not on the side. Without a doubt, with this Realme 7 Pro you will get a perfect immersion in games or everyday applications.
Procesador Snapdragon

If we talk about the machines that govern this Realme 7 Pro we find an old acquaintance, the Qualcomm Snapdragon 720G. This is a processor that is accompanied by an adreno 618 GPU that will allow us to obtain an excellent result in the day to day with our applications, videos, games or social networks.
In the memory section, this Realme 7 Pro has two different types of storage, the first one has 6 gigs of ram (LPDDR4X) and 128GB of memory while the second option goes up to 8 gigs of ram (LPDDR4X) keeping those 128 gigs of storage with UFS 2.1.
Gobernando por 4 cámaras con la principal de 64MP

We go with the photographic section and curves come since this Realme 7 Pro stands out for having a rectangular-shaped rear module where it inserts its 4 cameras. The main one goes to 64 megapixels with a Sony IMX682 Exmor RS sensor with an aperture of f / 1.8. The second is a sensor 8 megapixel wide angle, the third is a 2 megapixel macro lens camera and the fourth and last is a 2 megapixel monochrome portrait sensor.
Regarding the front camera, the Realme 7 Pro has 32 megapixels for the 16 MP of his younger brother the Realme 7.
Carga Flash 3 minutos

Now we have to talk about one of the increasingly important sections in technology and more in smartphones, the battery. If this Realme 7 Pro can highlight something, it is in its spectacular fast charge SuperDart Charge that goes up to 65W. You will be able to obtain with a single charge of 3 minutes up to three and a half hours in calls, watch a movie of 2 hours and a half, listen to 13 hours of continuous music or have fun playing 3 rounds of PUBG.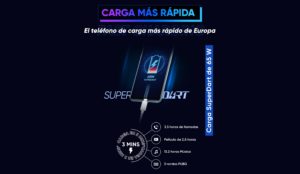 We also have a double battery of 2250 milliamps each with 4500 mAh in total. Thanks to this double battery we manage to improve the charge and reduce the temperature.
Connectivity
Regarding connectivity, this realmyst 7 Pro has a 4G connection, Wi-Fi, Bluetooth 5.1, Dual GPS, USB type C and a Minijack for the headphones. The tray SIM is triple and with which we can insert 3 SIM cards and separate an external micro sd card to increase our memory capacity.
PRECIO Y VERSIÓN
Relame 7 Pro 8GB/128GB 299€