Por fin contamos con la versión global del Xiaomi Redmi Note 9S. Finalmente la versión del Xiaomi Redmi Note 9 Pro es renombrada como Note 9S para el mercado internacional. El llamado a ser el nuevo rey de la gama media llega pisando fuerte con un procesador mejorado de la serie 700 de Qualcomm y con una batería que llega hasta los 5.000mAh.
Pantalla Full HD+ a 2400 x 1080 píxeles
En cuanto la pantalla nos encontramos con un terminal que sigue la tendencia del panel perforado dónde se inserta la cámara frontal. El Redmi Note 9S dispone de un 20: 9 screen ratio con una protección más que suficiente con el Gorilla glass 5. En esta ocasión nos vamos hasta seis cómo hace 6,67 pulgadas de display brillo máximo de 450 nits.
Procesador gaming de la serie 700 de Quallcomm
Redmi no ha reparado en gastos y en esta ocasión el Redmi Note 9S monta un Qualcomm snapdragon 720G a 2,3GHz. Con este procesador el Xiaomi Redmi Note 9S dispone de muchos argumentos para convertirse en un terminal gaming. El apellido del procesador con esa "G" nos indica que esta preparado para un uso gamer. En cuanto a la gráfica este nuevo Redmi Note 9S lleva incorporado una GPU adreno 618 que nos dará un buen resultado en videojuegos. Sin ser un procesador de gama alta, el Qualcomm snapdragon 720G nos proporcionará una experiencia de uso dinámica y fiable.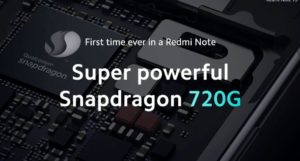 Distribución de las Memorias y colores
En cuanto al apartado de las memorias en este Xiaomi Redmi Note 9S disponemos de dos versiones una con 4GB de RAM y 64GB de memoria y otra más alta con la que llegamos hasta los 6GB de RAM y los 128GB de memoria interna. En cualquiera de los dos casos podemos alargar dichas memorias mediante tarjeta microSD hasta 512GB.
El nuevo Redmi Note 9S estará disponible en 3 colores distintos. En Glacier white, Aurora blue y Interstellar grey.
4 cámaras traseras y la principal de 48MP
En cuanto al apartado fotográfico disponemos de cuatro cámaras en la parte trasera donde la  main shines with 48MP y una apertura de f/1.79 dual pixel. En el Gran angular tenemos 8 megapíxeles con una apertura de f/2.2 y 13mm de distancia focal. El sensor de profundidad en esta ocasión alcanzamos los 2MP con una apertura de f/2.4. Para terminar disponemos de un sensor macro de 5MP para poder fotografiar los objetos más pequeños. Destacamos la posición de las cámaras dando un giro a lo que hemos visto en sus predecesores. En este terminal la posición de las cámaras es de dos encima de las otras dos, formando un pequeño cuadrado entre las 4.
En la cámara frontal nos vamos hasta los 16 megapíxeles. La cámara está en parte superior del centro de la pantalla.
Super batería de 5020mAh
Una de las notas más positivas de este Xiaomi Redmi Note 9S es su batería. Disponemos te una batería amplia y de larga duración que nos proporcionará tranquilidad en nuestro día a día. La carga rápida es de 18W
Conectividad y Conexiones
En cuanto a las conexiones el Redmi Note 9S dispone de cobertura 4G, Wi-Fi 5 y USB tipo C. También disponemos de salida de conector de auriculares, sensor de infrarrojos y radio FM. El lector de huellas en esta ocasión lo tenemos en el lateral tal y como estamos viendo en los últimos terminales de las diferentes marcas.
De momento nos hemos quedado con la incógnita de saber cuando dispondremos de el en España. El producto ya esta creado en nuestra web, donde podéis insertar vuestro email donde pone lista de espera y recibir un email informativo cuando haya stock.
Características Xiaomi Redmi Note 9S
Pantalla de 6,67 pulgadas FHD+
Procesador Qualcomm Snapdragon 720G
Quad rear camera with 48MP main sensor
16MP front camera
4GB / 6GB de RAM y  64GB / 128 GB de ROM
Batería de 5.0200mAh, con carga rápida 18
Side fingerprint sensor
Jack de audio para auricualres y Radio FM
MIUI 11 Operating System, based on Android 10OS.
To buy Xiaomi Redmi Note 9S, envío desde España con 2 años de garantía oficial.