Today we are going to use the blog for something totally different from what we have used to. We want to share with you the great illusion that has made us able to collaborate with Osakidetza and therefore with our healthcare professionals.
The occasion deserves it, since it has made us a tremendous illusion to be able to contribute our grain of sand in this daily fight that we live against the coronavirus. Today we received 1000 masks that we have delivered to the Osakidetza ambulance service. In the boxes we have not hesitated to write the following message
FROM KIBOTEK-HOLAMOBI BILBAO WE WANT TO THANK YOU FOR ALL THE EFFORT YOU ARE MAKING BY CONTRIBUTING OUR GRANITE OF SAND. FUTURE GENERATIONS WILL NOT THINK OF BATMAN OR SPIDERMAN WHEN THEY IMAGINE THEIR SUPERHEROES, BUT THEY WILL THINK OF YOU. LOTS OF ENCOURAGEMENT AND STRENGTH
MILLION THANKS FOR YOUR WORK.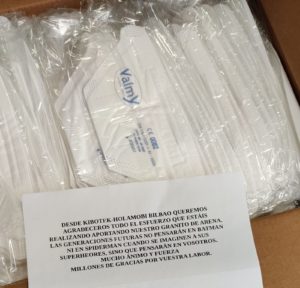 Within the war we are all involved in, there are also positive things. We are seeing how every day at 20 in the afternoon we all go out to the balconies to applaud our superheroes, how among our neighbors we give each other words of encouragement or we help someone in need in our own building. There are many actions of solidarity and collaboration that we are seeing these days. Because the only way to survive and win the coronavirus is by being all united.
You, too, thank you very much for staying home and going out as much as is essential. THANKS
#QUEDATEENCASA