Buy KN95 Mask (FFP2) Reusable Rockbros CoolChange PM2.5 PM0.3 with replaceable filter effect 95% with 24h shipping from Spain Europe.
Retains pathogens (viruses, bacteria, spores), particles (soot, ash) and allergens (pollen, mites)
In addition, it also incorporates high-tech filters capable of combating air pollutants such as seasonal haze, dust storms, cold and flu pathogens, allergenic pollen, fat, smoke and exhaust gases, among others.
Suitable to protect you KN95 Antiviral, Dust, Anti-Vehicle Exhaust, Anti-Pollen Allergy, PM2.5 (2.5 micron particulate matter) and PM0.3, for cycling, hiking, skiing and other outdoor activities
Filtration effect ≥ 95% (KN95), protect improve your health.
American Certification
European Certification
China Certification

Certification / Class (Standard)

N95 (NIOSH-42C
FR84)

FFP2 (EN 149-2001)

KN95 (GB2626-20 06)

Filter performance - (must be ≥ X% efficient)

≥ 95%

≥ 94%

≥ 95%

Test agent

NaCl

NaCl and paraffin oil

NaCl

Flow rate

85 L / min

95 L / min

85 L / min

Total inward leakage (TIL) * - tested on human subjects each performing exercises

N / A

≤ 8% leakage (arithmetic mean)

≤ 8% leakage (arithmetic mean)

Inhalation resistance - max pressure drop

≤ 343 Pa

≤ 70 Pa (at 30 L / min)
≤ 240 Pa (at 95 L / min)
≤ 500 Pa (clogging)

≤ 350 Pa

Flow rate

85 L / min

Varied - see above

85 L / min

Exhalation resistance - max pressure drop

≤ 245 Pa

≤ 300 Pa

≤ 250 Pa

Flow rate

85 L / min

160 L / min

85 L / min

Exhalation valve leakage requirement

Leak rate ≤ 30 mL / min

N / A

Depressurization to 0 Pa ≥ 20 sec

Force applied

-245 Pa

N / A

-1180 Pa

CO2 clearance requirement

N / A

≤ 1%

≤ 1%
The interchangeable inner filter is made up of 5 layers of protection:
1. Layer: a Spunbond outer layer, avoid liquid splash and larger particles
2. Layer: activated carbon filter layer, airborne chemical pollution filter
3. Layer: layer of melt blown material, filtering a smaller 0.30 micron dust PM0.3
4. Layer: The reinforced Meltblown layer, filtering PM2.5 particles
5. Layer: Spunbond non-woven fabric on the inner layer, comfortable and soft, pleasant to the touch
Interchangeable filter, activated carbon filter to stop smoke and mist effectively. 2 sides of the face mask are breathable as well as to reduce breath-free and forward-free breathing resistance.
The outer black part of the mask can be washed, and the way to do it would be equivalent to the way to wash a reusable hygienic mask, either in a solution of water and bleach for 15-30 minutes, or by washing with detergent normal and water at a temperature between 60º-90º (normal washing machine cycle).
Depending on the use that is given to the mask, the duration of the filters varies:
Normal anti-pollution use -> 30 days
Anti-dust, sports, anti-pollution use -> 3-10 days (depending on the dirty state of the filter)
Use antipathogens such as bacteria or viruses -> accumulated use of 6-10 hours
The exhalation valves have a membrane that moves outwards when exhaling allowing air to escape, and inwards when inhaling closing the air inlet. If necessary, it is possible to disable the exhalation valves completely preventing the exit of our unfiltered air, obtaining the equivalent of an FFP2 mask without valves. To do this, you can use the remaining circles from the additional filters: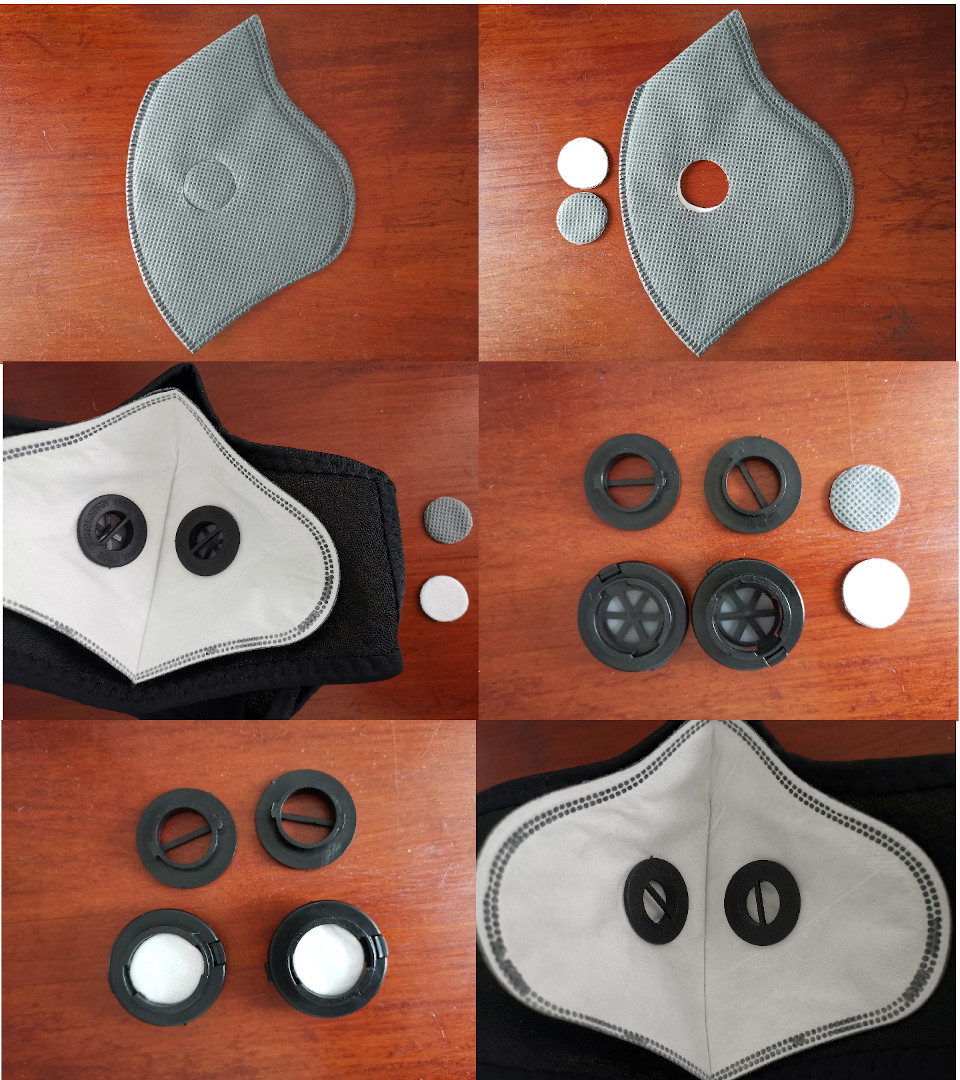 It is also very easy to disable them by inserting a "slice" of a typical cork stopper into the valve.
You can buy the KN95 M2.5 Rockbros CoolChange Mask with the guarantee and security of kiboTEK.