Xioami does not stop presenting products almost daily and this time we tell you everything you need to know about the Amazfit GTR 2, an elegant smartwatch with a huge battery.
AMAZFIT GTR 2 SPECTACULAR CLASSIC DESIGN THAT LOVES YOU
After launches like the Zepp E or the amazing Amazfit X, the second generation of the best seller from Amazfit arrives… The GTR 2. A beautiful classic design dresses this smartwatch that improves on the incredible GTR both on the screen and when incorporating the meter of oxygen in blood and all with a drummer that would leave the Duracel bunny drumming for centuries ...
1.39 "AMOLED RETINA DISPLAY
326 pixels per inch for this Amazfit GTR2 that will give you sharp and colorful images. Equip a screen 1.39 inch full color amoled. In addition, both the date and the time are continuously displayed on the screen thanks to the Always On function (always on). You can customize it to your liking with the different wallpapers and dials ...
471 mAh BATTERY TO NEVER STAY "OUT OF TIME"
This new Amazfit GTR 2 combines both its software and its hardware to optimize battery consumption to the maximum by having up to 14 days running our smartwatch at full performance. In basic mode, this Amazfit can give you a fight for a not inconsiderable 38 days!
12 SPORTS MODES THAT INCLUDE FROM SKI TO ELLIPTICAL
Whatever your favorite sport, you will surely find it among these 12 preselected modes of the Amazfit GTR2: Running, Walking, Cycling, Stationary bike, Elliptical bike, Treadmill, Open water swimming, Pool swimming, Skiing, Mountaineering, Obstacle course and a Free Mode. Among other things, you can control the steps taken, the distance traveled and the calories burned. Whether you are a Usain Bolt, a Perico Delgado, or a Mireia Belmonte, your needs will be more than covered.
LET'S GET TO KNOW THIS BEAST FURTHER
We will start talking about the sensors included in this new Amazfit GTR2:
BioTracker PPG2 Optical Sensor to monitor your health like you should… This patented, high precision biological tracking optical sensor from Huami is one of the best on the market today. One of its main functions is to constantly control our heart rate with surgeon precision. It also controls you while rest and detect arrhythmias and atrial fibrillation automatically. Even while you are training, if your GTR2 detects values that are too high, it will notify you immediately so that you reduce the risks in your day to day.
Another fundamental indicator that this Amazfit is responsible for is measuring the saturation percentage of the blood oxygen (SpO2), especially important when playing high intensity sports.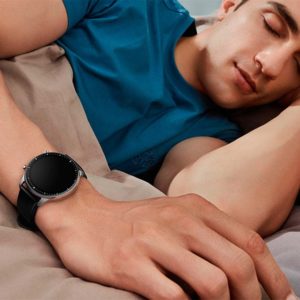 AND YES, ALSO CONTROL YOUR REST AND YOUR SLEEP (ZZZZZZZZZZ)
The GTR2 monitors your sleep as completely as possible. Accurately study your sleep stages and their duration (light sleep, deep sleep, REM ...), analyzing the quality of your breathing and scoring your sleep. A novelty of this smartwatch is that it even controls your nap!
At the moment we do not have the global version for Spain but we hope that Xiaomi does not leave us with the desire and it will arrive very soon, stay tuned to our website!
In kiboTEK you can buy the Xiaomi Amazfit GTR 2 with the guarantee and security of the best Xiaomi store in Spain.