Realme no para de presentar nuevos productos y en esta ocasión nos traen el nuevo Realme X50 5G, llamado a disputar la corona de la gama media. Estará disponible a la venta para mediados de julio con un precio rompedor de 349€.
El Realme X50 con 5G viene acompañado de un procesador Snapdragon 765G , con cámara trasera cuádruple y sensor principal de 64MP Sansumg GW1. Además, incorpora sensor de huellas en pantalla, NFC y una increíble pantalla Super Amoled de 6,57 pulgadas a 120Hz de frecuencia de refresco.
A flagship range to compete head-to-head with Xiaomi Y Honor, and also with RealmeUI the Oppo Realme Android customization layer.
Pantalla Drewdrop Super Amoled FHD+ de 6,57″ a 120Hz
The Realme X50 5G wears a 6.57-inch Full HD + AMOLED drewdrop display with a 120Hz refresh rate and 20: 9 aspect ratio.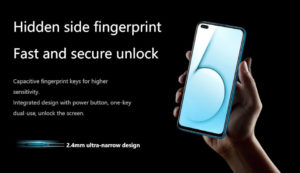 Qualcomm Snapdragon 765G Plus processor
El Realme X50 5G está gobernado por el procesador Snapdragon 765G  Octa-Core junto con 6GB/8GB/12GB de RAM.
El Realme X50 5G soporta Frame Boost 2.0 y Touch Boost 2.0 . Frame Boost 2.0 aumenta la estabilidad en un 41.1% mientras juegas a juegos al acelerar la velocidad de los fotogramas. Touch Boost 2.0 aumenta el rendimiento táctil en un 22,2%.
Quad rear camera Samsung GW1 64MP + 12MP + 8MP + 2MP
El Realme X50 5G viene con una cámara cuádruple trasera con un sensor principal Samsung GW1 de 64 megapíxeles con apertura f/1.8 . Puede tomar fotos de resolución ultra alta de 9000×7000 píxeles.
It also adds an 8 megapixel f / 2.3 ultra wide angle lens with 115-degree field of view, a 12-megapixel f / 2.5 telephoto lens, and a macro sensor to capture the fine details of 2-megapixel f / 2.4.
He Realme X50 5G It also offers 20x Hybrid Zoom, perfect for low-light images with a large aperture and pixel size.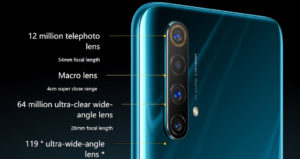 4200 mAh battery with VOOC 4.0 30W
He Realme X50 5G se alimenta de una batería de 4200 mAh que admite la tecnología de carga Flash SuperVOOC de 30W
The smartphone also supports USB-PD and 18W fast charging technology.
Dolby Atmos sound
He Realme X50 5G, same as him Realme X2, it comes with Dolby Atmos support for panoramic sound effects and Hi-Res Audio support.
Fingerprint sensor on the side and NFC
He Realme X50 5G añade un escáner de huellas dactilares en uno de los laterales para desbloquear su teléfono, y ofrece soporte NFC multifuncional.
Está equipado con tecnología de aceleración de red Wi-Fi dual que puede conectarse a dos Wi-Fi en diferentes bandas de frecuencia de 2.4GHz y 5GHz simultáneamente para una conectividad más rápida y estable
At kiboTEK you can buy the Realme X50 5G with the guarantee and security of the best Realme store in Spain.