The Chinese brand Realme does not stop taking out new terminals and this time it is going to present the new Realme X3 super zoom.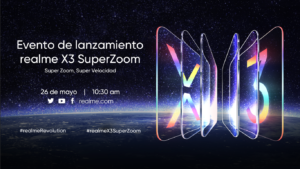 This new model will be presented next May 26 and probably will not come alone since they will accompany you with some other device. It is not the first time that we know about the new Realme X3 as it has been leaking little by little for weeks. One of the biggest attractions of this new smartphone is a periscope 60x, which of course is probably a hybrid over the optical that the Realme X3 lens provides us.
In the guts of Realme X3 we are going to find a processor Qualcomm Snapdragon 855 Plus. We were surprised that the new Snapdragon 865 that has 5G is not used, but we understand that this is due to a significant cost reduction of the phone that will continue to make it very, very attractive.
Another of the magnificent surprises of this Realme X3 is its screen since it will reach the 120Hz making a clear nod to the gamer public.
As for the battery this Realme X3 will probably have 4000 or 4500 milliamps with a fast charge of 30 watts.
In short, we will have to wait until May 26 to learn more about the new Realme X3 and know if it has a price as competitive as its predecessor the Realme X2 Pro.