Today we bring you one of the most refreshing offers of the summer with the finetwork operator. If what you want is to save on your bill without a doubt this low cost is your best option. From our physical store kiboTEK-holaMOBI in Bilbao you can contract any of the finetwork fiber and mobile rates.

This low cost operator has several convergent rates such as fiber and mobile separately. In this small article on our blog we are going to show you the different options and rates that the chic @ s of finetwork.
In the first option we will see loose mobile rates where all of them will enjoy 66 GB extra per month during this summer. We have several rates but the ones that stand out the most are the 10 optionsGB with unlimited calls for € 10.90, 20GB and unlimited calls for € 14, 90 or 30GB and unlimited calls for € 19.90 per month. As we have commented during these summer months these rates will enjoy 66 GB extra and of course all these prices have VAT already included (WITHOUT PERMANENCE).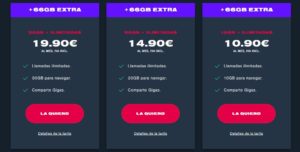 We also have the option of hiring our fiber without a mobile. In this case fitnetwork It offers us three options with really adjusted prices. We have the lowest rate with 100MB of symmetric fiber per month for € 20.90, an intermediate rate with 300 megabytes of fiber for € 24.90 per month or the third option with 600MB of fiber for € 29.90 per month. All these fiber rates have the installation and the router for free with no fixed line cost.
As if that weren't enough the operator finetwork It has two convergent packages where we can save by having fiber and mobile on the same bill. These two fiber and mobile packages from the finetwork operator are the more competitive that is on the market right now. The first one consists of 100 megabytes of fiber plus a mobile line with unlimited calls and 12GB for only 29.90 euros per month. The second option for only € 5 more gives us 300MB fiber plus a line with unlimited calls and 24 GB for only 34.90 euros per month VAT included.
Definitely finetwork It is here to stay and is witnessed by its great customer growth in the first part of this year 2020.
Do not hesitate to stop by our kibotek holamobi Bilbao physical store in Alameda Urquijo 35 in Bilbao and start saving with one of the operators with the best rates on the current market.